DigiSus seminar New York and Boston program 17.-21. september
Program:
Monday 17th: 
9:30am – Noon – Creative prototyping workshop @ NYU Steinhardt with Alex Ruthmann
Afternoon: Visits to progressive schools TBD , NYU early childhood program
6:45pm – 8:25pm – Drama in Education class – Kirsti Aksnes present to class. Presentaton by Kirsti Aksnes: Integrating sensory-based technologies in process drama
Tuesday 18th:
10:15am – 12:15pm – Visit to Children's Museum of the Arts (Tom Burnett, Director of Early Childhood). Tour 10:15-10:45am, followed by observation of their early childhood program in action 10:45am to Noon.
Link to their early childhood drop in class: http://cmany.org/classes-and-activities/activities/view/wee-arts-5s-drop-2/
3:00pm – 4:30pm – DigiSus project public presentation at MAGNET (2 MetroTech, 8th floor, Brooklyn, NY) – Presentation to Multimedia and Games Network, Digital Media Design for Learning program, and MusEDLab.
Presentations:
Ingrid A. R. Grønsdal: DigiSus: A competence project for Building Sustainable Digital Practices in Kindergarten Literacy and Arts Programmes
Vigdis Vangsnes: Researching possible pedagogical positions when introducing digital technologies in early childhood education
Liv Ingrid Fjellanger: Introduction to pedagogies influencing Norway's Kindergarten Teacher Education
Katrine Borgenvik: Investigating coding in Scratch for projecting children's own drawings in sensory rooms
Ingrid A. R. Grønsdal, Martin Stensaker Rio, Maren Tislevoll Odland, Mariann Lie Helland, Ingrid Dalland Raa: Kindergarten practitioner reports: Making magic with Makey Makey,- possibilities and challenges when working with young children
Wednesday 19th:
9:30am – 11am – Visit to Portfolio School in Tribeca. https://portfolio-school.org/
11:30am – Tribeca Community School – https://tribecacommunityschool.com/

Thursday 20th:
10am-Noon – Visit to Marina Bers' Lab at Tufts University (http://sites.tufts.edu/mbers01/ http://sites.tufts.edu/devtech/ ).Tufts University, School of Arts and Sciences, Eliot-Pearson Department of Child Study and Human Development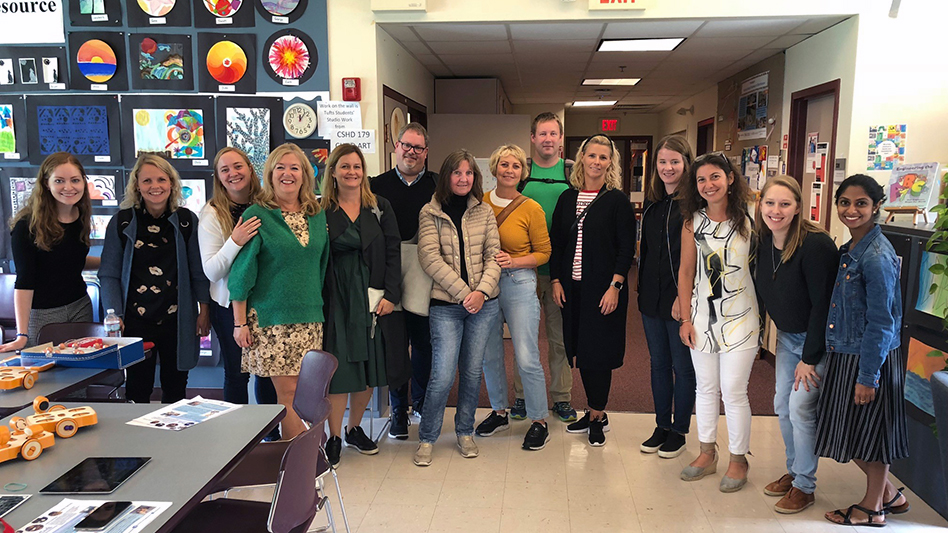 4-6pm – Introduction to Lifelong Kindergarten and present the project, workshops – https://llk.media.mit.edu/ – 75 Amherst St, Cambridge, MA 02139
Friday 21st:
10.00am-13.30pm:  Visit to Children's museum of Boston http://www.bostonchildrensmuseum.org/exhibits-programs/programs